Revitalizes & Moisturizes Normal to Oily Skin
Juicy Chemistry's organic toners are an absolute treat for your facial skin is also possible. Due to the substantial amounts of essential oil they contain, our flower waters retain the very essence of the plant. Unlike some other flower waters that one can find in the market, our waters are obtained from fresh leaves and blooms of the plants by direct stream distillation, and are not just a by-product that has remained after the production of essential oils.
Handpicked before sunrise and bloomed by direct steam distillation immediately after harvesting, our unique and powerful Bulgarian rose water toner is pure skin elixir. It hydrates, revitalizes, and moisturizes the skin, while its rich antioxidants help to strengthen skin cells and regenerate skin tissues.
Damask Rose water is known to maintain the pH balance of the skin and also controls excess oil. The soothing and moisturizing properties of white rose make it suitable for dry and very sensitive skin types too. It has anti-inflammatory, antiseptic and antibacterial properties that help soothe and heal the skin.
Hydrates, revitalize, and nourish the skin. 
Balances pH and controls excess oil. 
It helps clean pores and tones the skin. 
It helps soothe and heal the skin. 
It entails anti-inflammatory, antiseptic, and anti-bacterial properties. 
Has strong astringent properties. 
Suitable for all skin types. 
Due to the astringent properties it possesses, rose water helps clean pores and tone the skin. Applying it after steaming tightens capillaries, reduces redness and blotchiness. Being a powerful mood enhancer, its aroma helps lift up your spirits and calm your senses.
It is also known to treat mild scalp inflammations and get rid of dandruff. Rose water works wonders as a natural conditioner and revitalizes hair growth.
PS: Our rose water is not a by-product of the oil production but an end product of its own.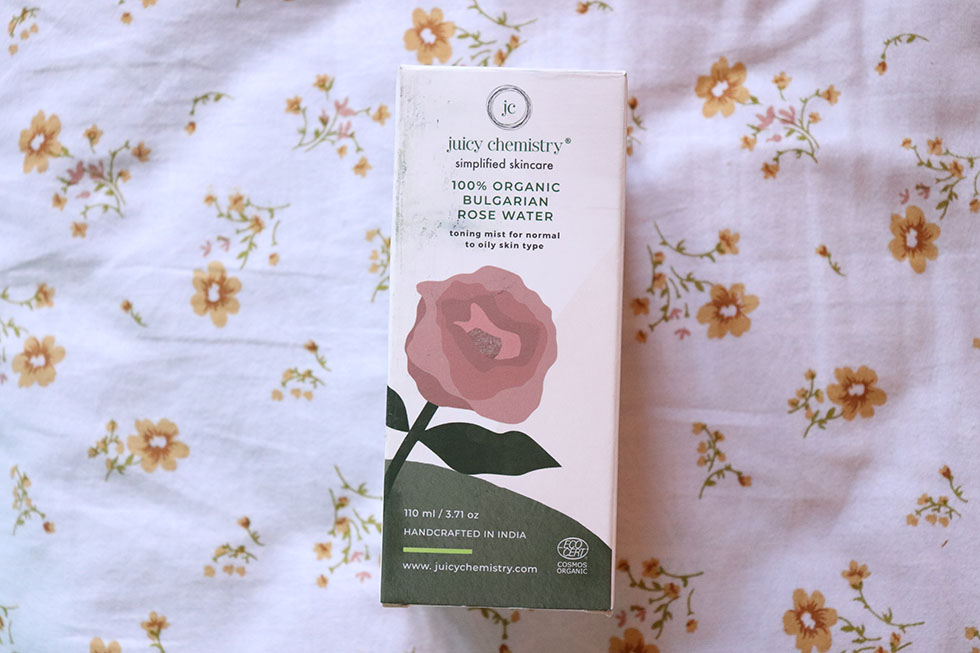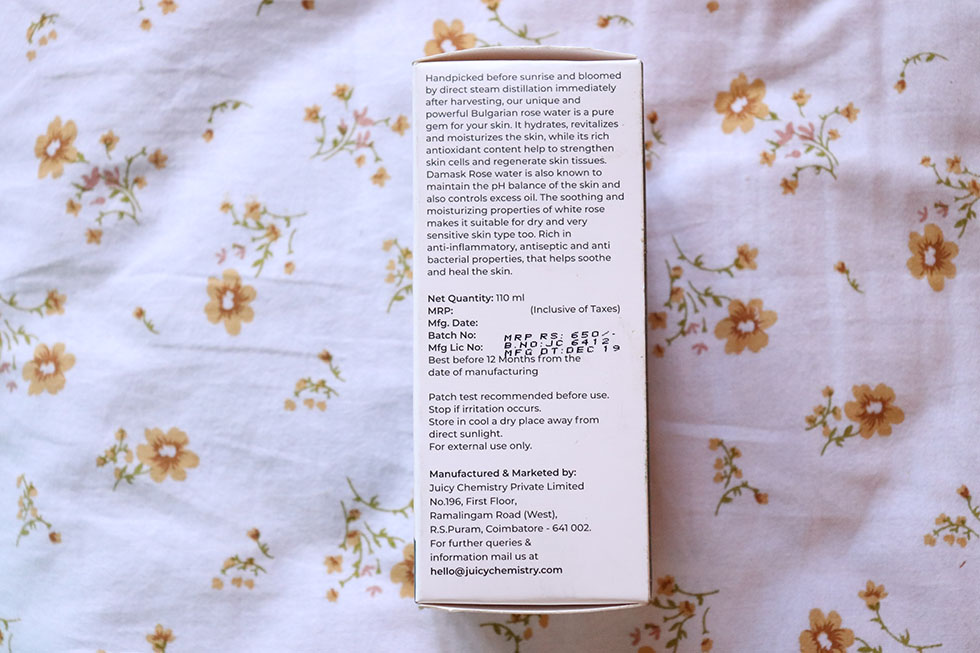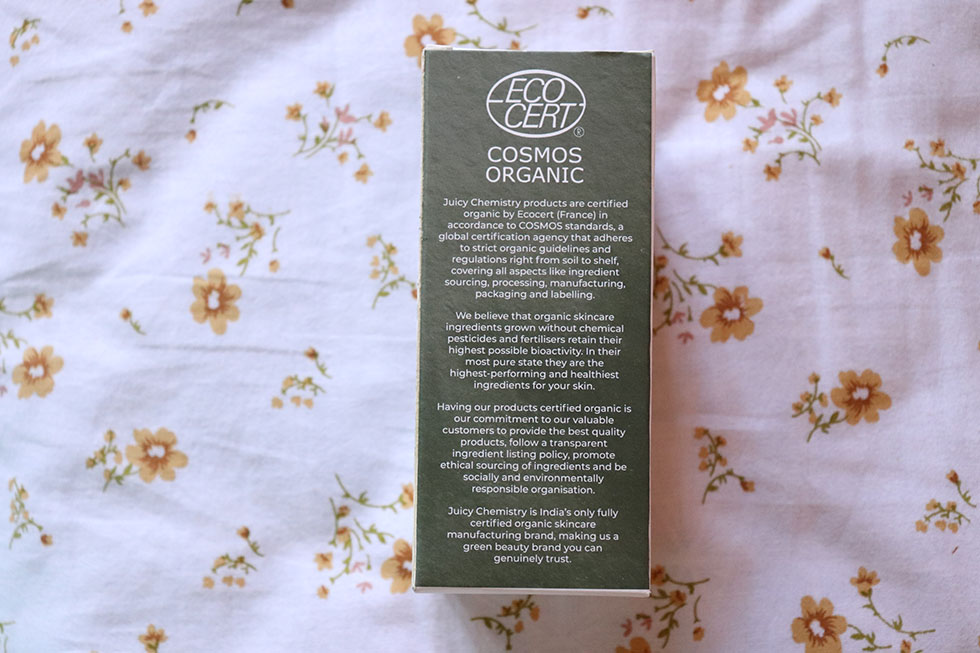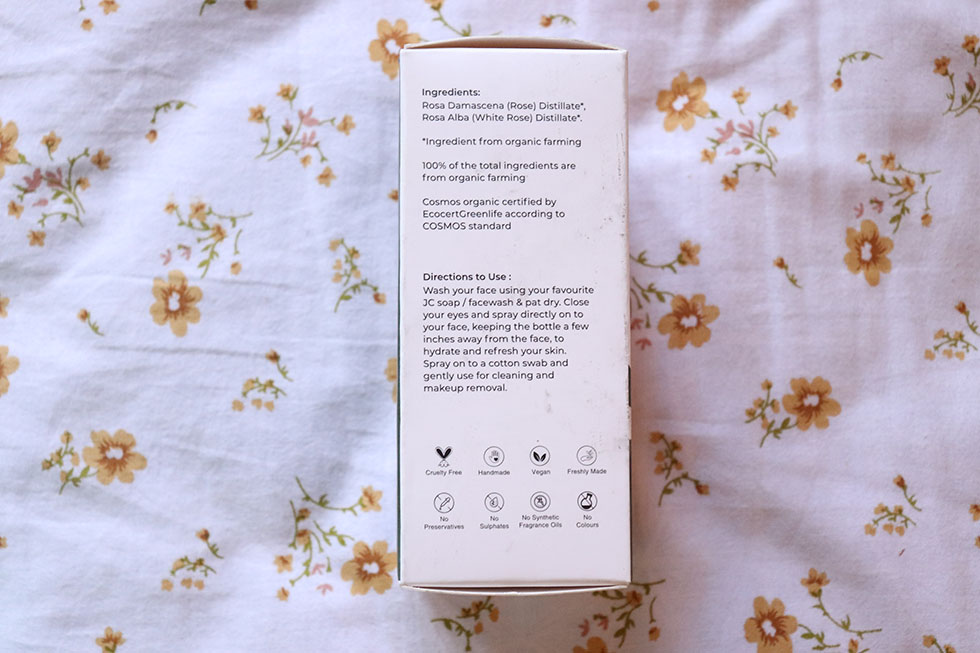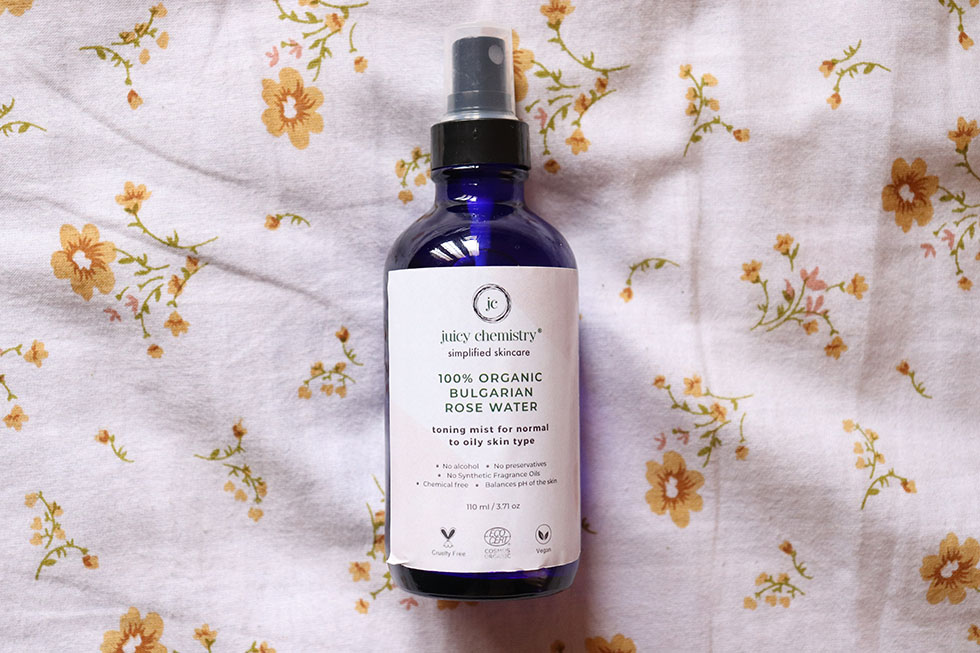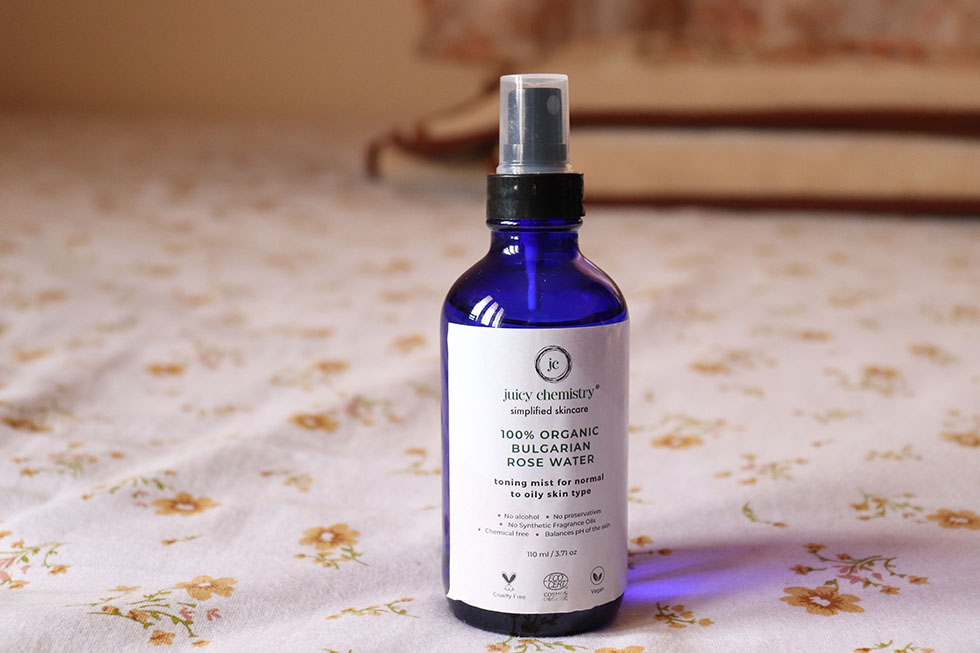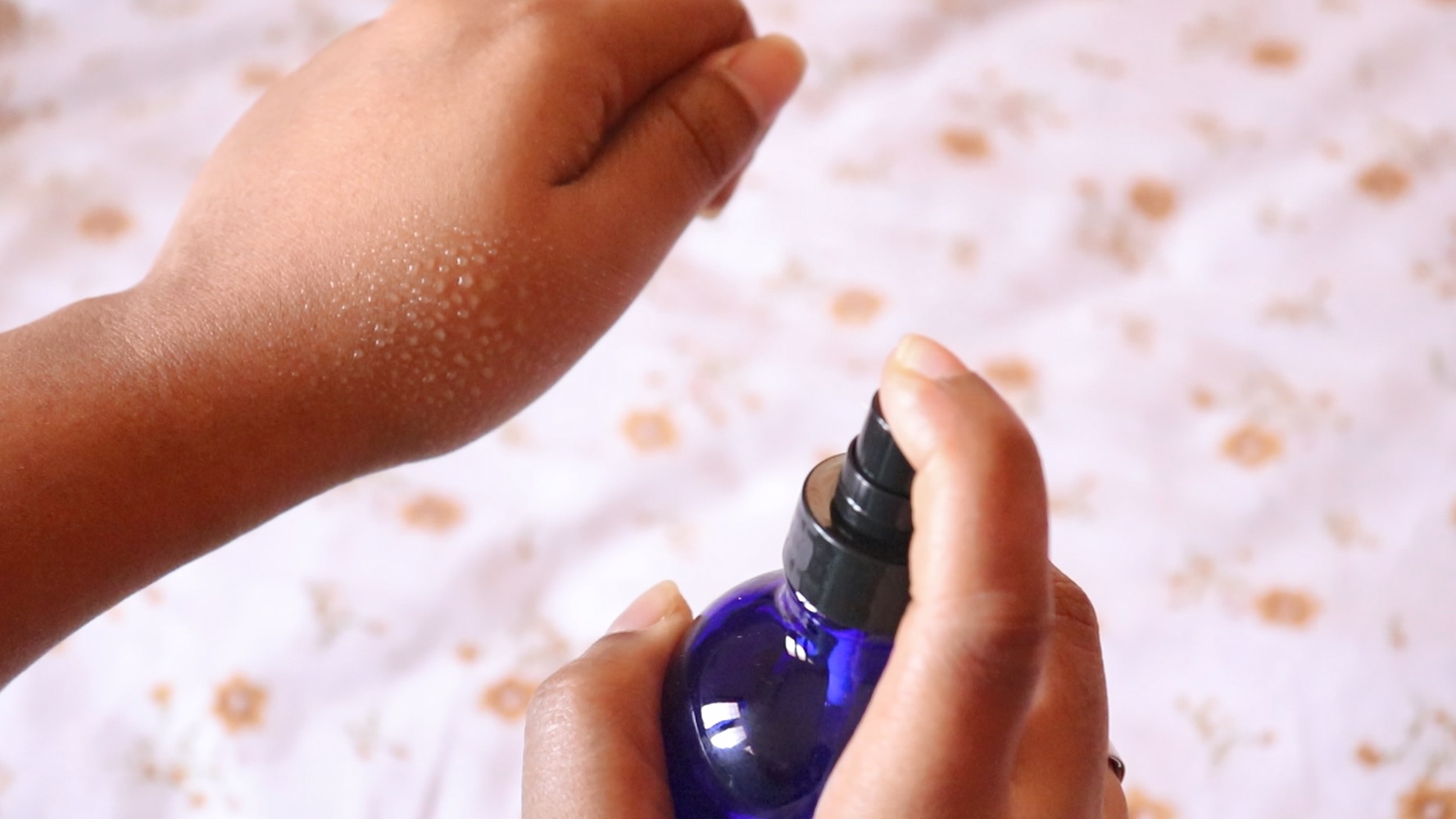 Cruelty free 
Handmade 
GMO free 
Freshly Made 
No Preservatives 
No Sulphates 
No Synthetic Fragrance Oils 
No Colours Added 
Made in India 
Rosa Damascena (Rose) Hydrosol*, Rose Alba (White rosa) Hydrosol*
*Ingredients from Organic Farming
100 % Of the total ingredients are from organic farming
Cosmos organic certified by Ecocert Greenlife according to COSMOS standard
To Hydrate Your Skin: Spray directly on to your face to keep your skin hydrated and refreshed. Keep your eyes closed when spraying and place the bottle a few inches away from your face.
For Make-up Removal: Spray the mist on a cotton swab and gently cleanse your face with it to remove traces of make-up and dirt. For best results, use the toner twice a day after cleansing your face.
Steam distilled, rose water contains both microscopic particles of rose essential oil, and water-soluble plant compounds. These both come through distillation and account for the traditionally known benefits of rose water for skin. Our Rose Water may contain some natural sediments making it appear cloudy or look like tiny floating particles in the water. This is a result of natural waxes/essential oil compounds that settle out of the distillate water and occurs after fine filtration. It does not indicate any deterioration in quality.
Organic hydrosols are fragile and subject to rapid degradation than their essential oil counterparts due to lower concentration of antibacterial properties. That's why properly storing your pure hydrosols is very crucial.
Here are few guidelines you must take care of – 
Store your bottles in a dark cool place away from any source of light. Repeated exposure to sunlight or UV rays are especially damaging to hydrosols. 
Always keep your hydrosols in amber/cobalt glass bottles as they effectively block out damaging sunlight. 
Do not keep partially full bottles. The empty space in the bottle also called the headspace accelerates oxidizing of the hydrosols which can harm the aromatic and therapeutic constituents of the waters. In order enhance the shelf life of such pure waters, transfer them to smaller bottles.
Ensure that the bottle caps are aptly tight. It's imperative to make sure that the caps are not too tight or loose as it may allow oxygen in. 
Keep them in a cool dry place. You may refrigerate the hydrosols but do not put them in the freezer. 
Do not allow unsterilized objects to come in touch with your bottle nozzle such as your fingers or cotton balls ensuring the integrity of your hydrosols remain intact.
Always keep a track of the manufacturing date and expected shelf life of the hydrosols. 
Lastly, always use your hydrosols as fresh as possible.
We hope these tips help you get maximum benefit from our organic hydrosols.
Juicy Chemistry Bulgarian Rose Water Toner comes in a blue glass bottle with spray nozzle. The toner is very gentle and non-greasy. The fragrance is pleasant. Its a feel good product. Please don't expect this product is going to change your skin, it definitely calms your skin. It is a little expensive but it will last for long. I will repurchase this product.
I definitely recommend this product and let me know your experience...