Juicy Chemistry products are certified organic by Ecocert (France) in accordance to COSMOS standard , a global certification agency that adheres to strict organic guidelines and regulations right from soil to shelf covering all aspects like ingredient sourcing, processing, manufacturing, packaging and labelling.
Unveil an even skin tone and a glowing complexion with our uniquely formulated cleanser. Harnessed with the powerful qualities of Tamanu, Kakadu Plum, and Frankincense, this face wash entails potent skin healing properties. Infused with strong antioxidant properties, Tamanu and Kakadu plum promote healthy skin tissue thereby subsiding scars, blemishes, and pigmentation. Frankincense has strong astringent properties that smoothen the skin texture and tighten it to naturally slow signs of ageing. Pamper your skin with this heavenly goodness packed in a bottle.
Accelerates fading of scars and promotes even skin tone. 
Tightens and softens the skin. 
Reduces the appearance of pores. 
Packed with powerful antioxidants. 
Reduces pigmentation and fights signs of ageing effectively.
Show scars, blemishes and pigmentation the way out with our exclusive Tamanu, Kakadu Plum and Frankincense face cleanser. Tamanu oil has been known for its healing properties since ancient times. This magical potion accelerates fading of scars by repairing skin tissue at its very root.
Kakadu plum, one of the richest sources of Vitamin C, helps boost collagen and elastin in the skin. It promotes even skin tone and fights signs of ageing.
Frankincense is a powerful astringent as well as protectant for the skin. It naturally lifts and tightens the skin. The bactericidal properties of Frankincense keeps acne at bay.
Rosehip oil contains a wealth of essential fatty acids, including linoleic acid making it an excellent ingredient for hydrating skin. This dry oil also offers powerful anti-ageing properties.
Jasmine Oil is a potent ingredient in evening out the skin tone as well as reducing the appearance of dark spots, scars and blemishes.
Olive oil, Castor oil and Vitamin E oil makes sure the cleanser doesn't strip of moisture from the skin, leaving it soft and supple.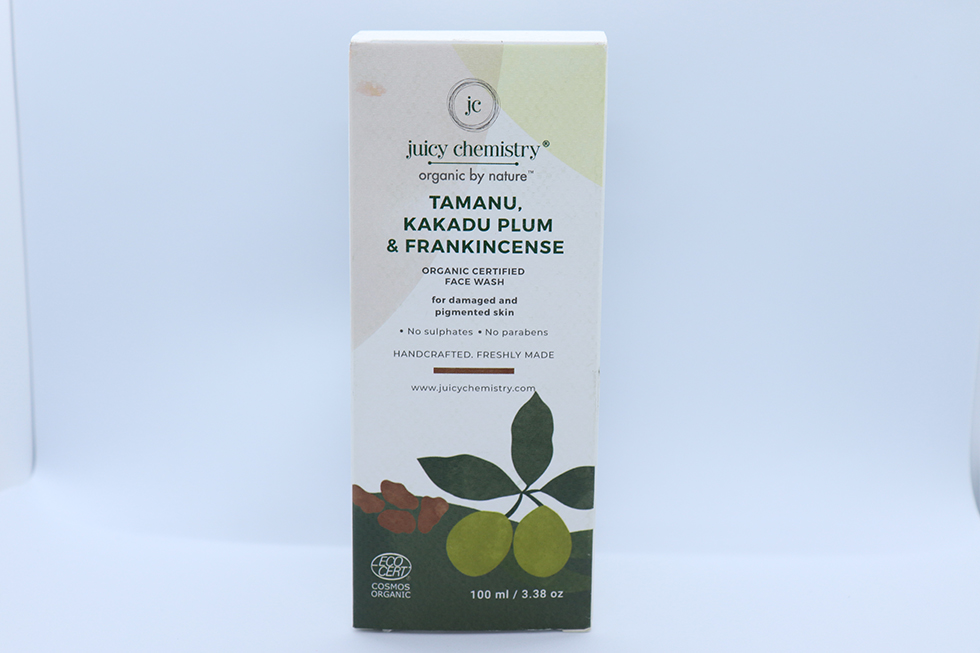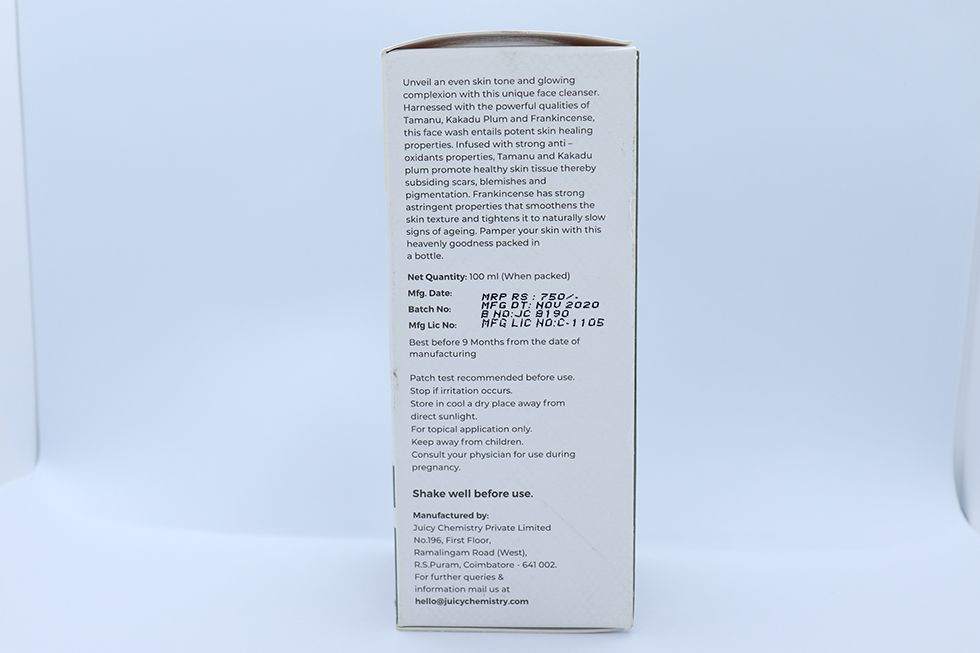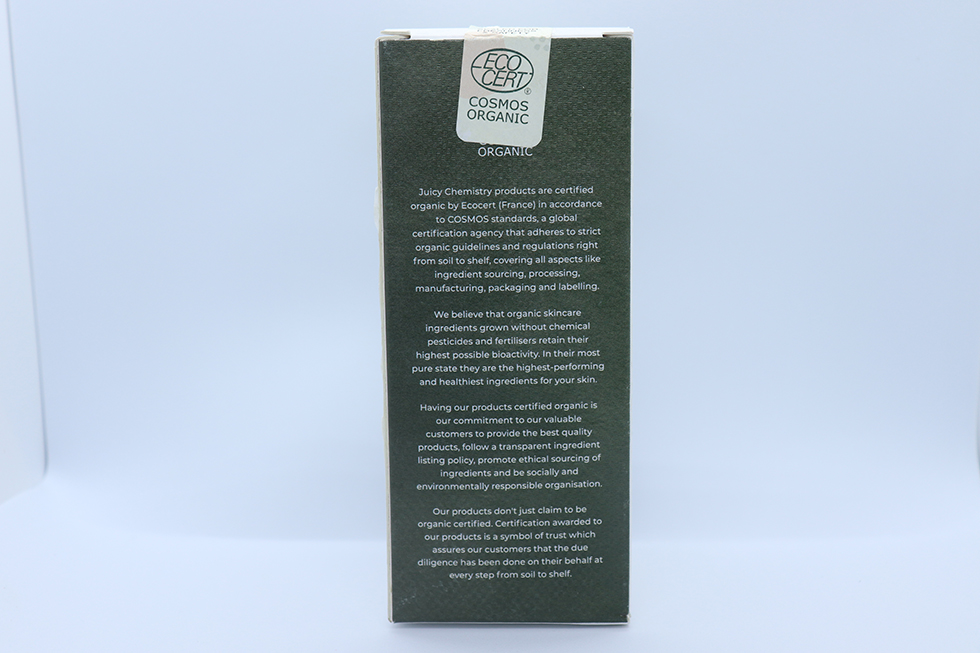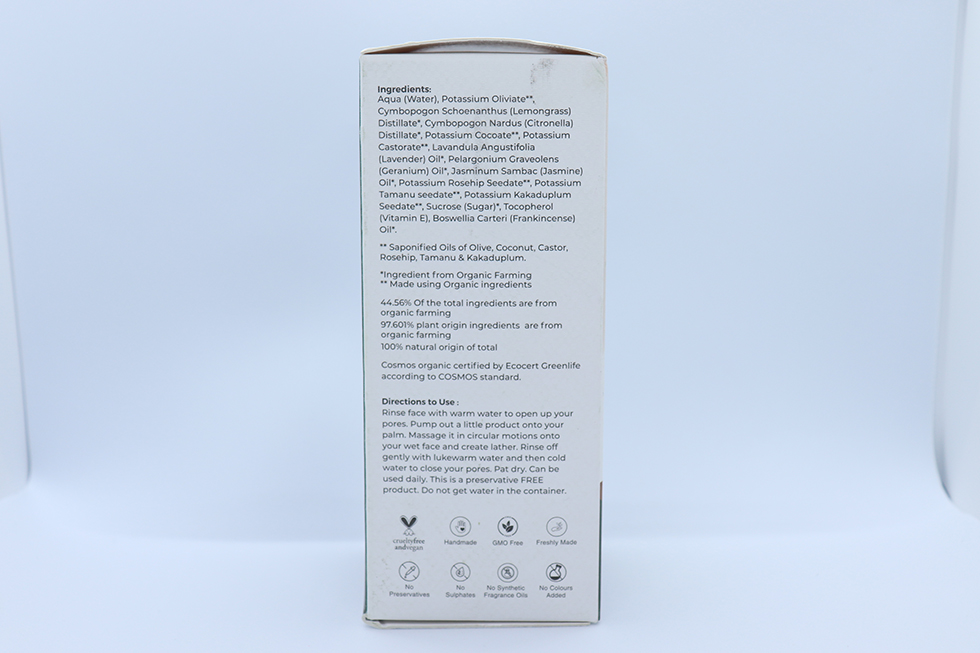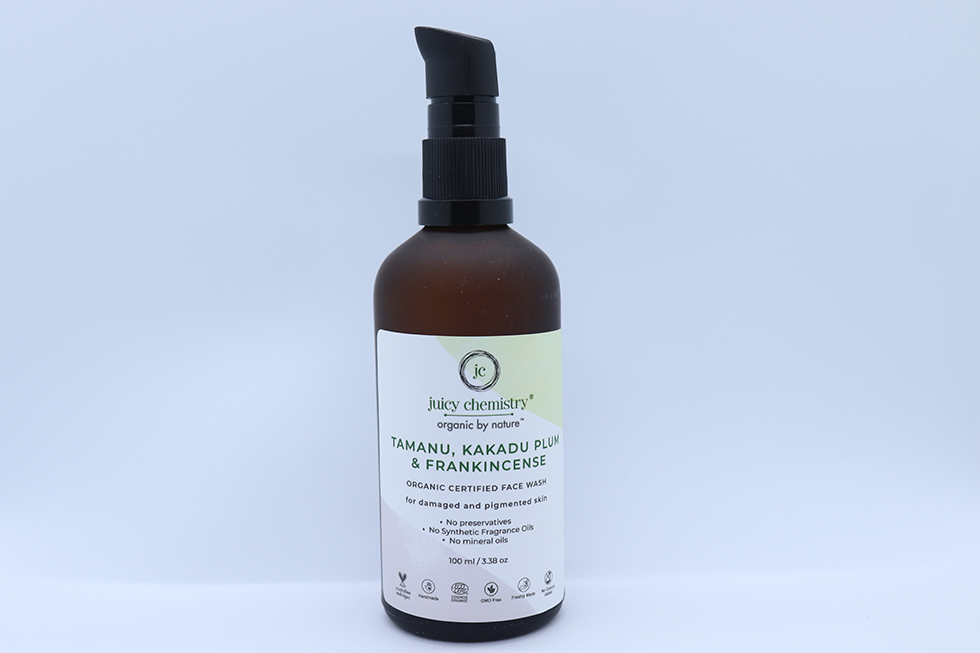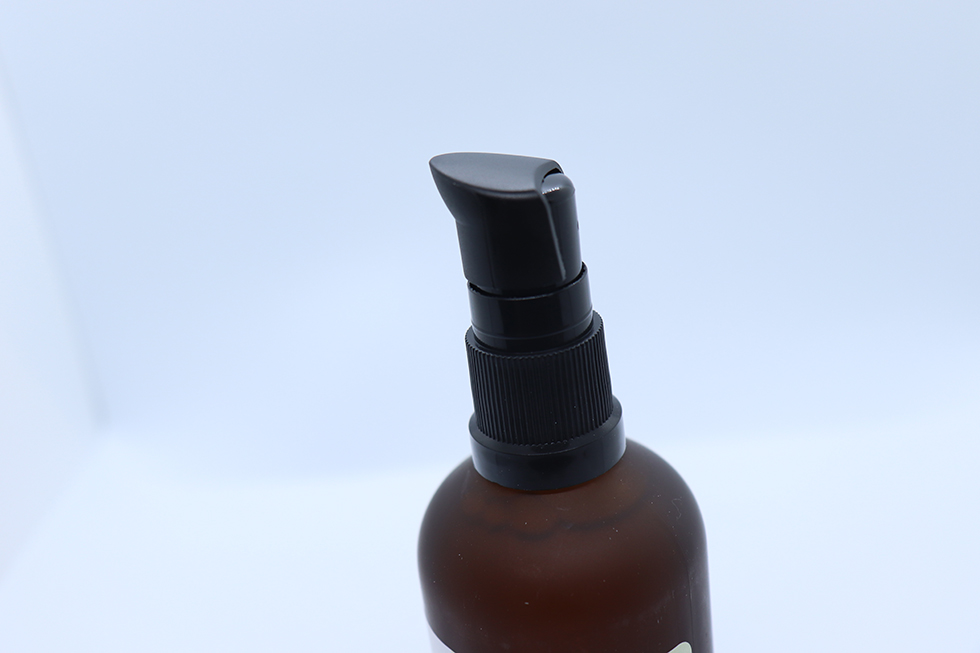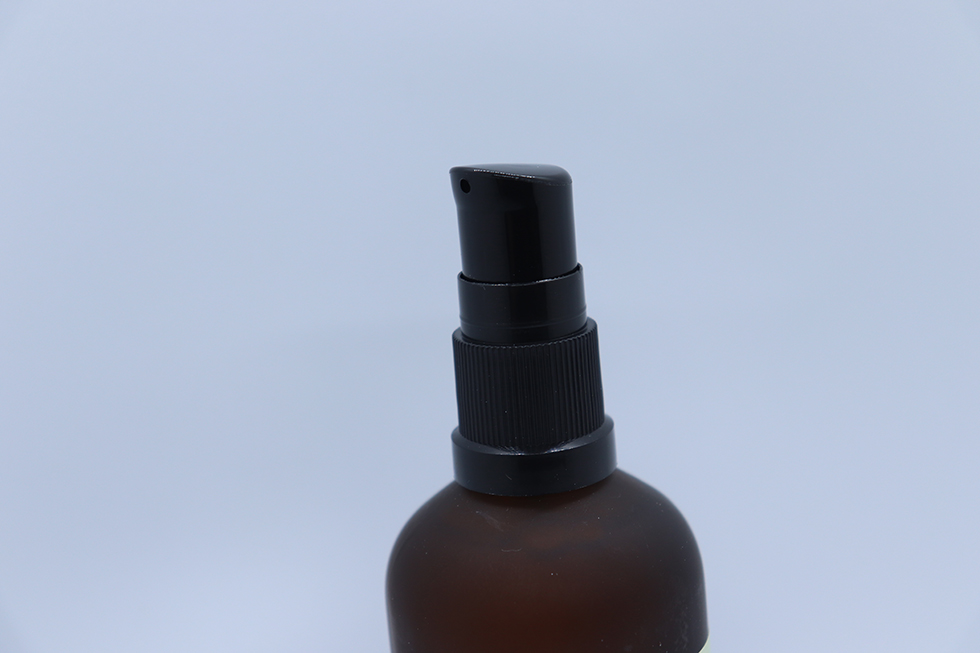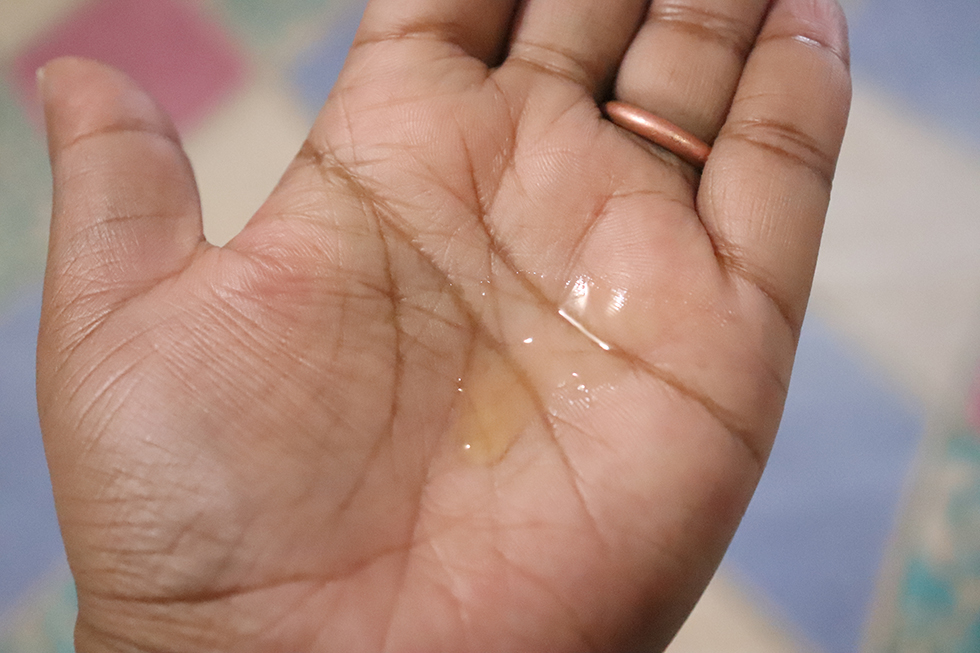 Cruelty free 
Handmade 
GMO free 
Freshly Made 
No Preservatives 
No Sulphates 
No Synthetic Fragrance Oils 
No Colours Added 
Made in India 
9 Months but use within 6 months after opening the bottle.
Aqua(Water), Olea Europaea (Olive) Oil*, Cymbopogon Schoenanthus (Lemongrass) Distillate*, Cymbopogon Nardus (Citronella) Distillate*,Cocos Nucifera(Coconut) Oil*, Ricinus Communis (Castor) Seed Oil*, Lavandula Angustifolia (Lavender) Essential Oil*, Pelargonium Graveolens (Geranium) Essential Oil*, Jasminum Sambac (Jasmine) Essential Oil*, Rosa Canina(Rosehip) oil*, Calophyllum Inophyllum (Tamanu)Seed oil*, Terminalia ferdinandiana(Kakadu plum ) Oil *, Sucrose (Sugar)*, Tocopherol (Vitamin E), Boswellia Carteri (Frankincense) Essential Oil* Potasium hydroxide**
*Ingredients from Organic Farming
44.56% Of the total ingredients are from organic farming.
97.601% plant origin ingredients are from organic farming.
100% natural origin of total
Rinse face with warm water to open up your pores. Pump out a little product onto your palm. 
Massage it in circular motions onto your wet face and create lather. 
Rinse off gently with lukewarm water and then cold water to close your pores. Pat dry. 
While cleansing avoid getting product inside the eye as it might sting. Please refer to Juciy Chemistry tutorial for better understanding. It can be used daily. This is a preservative FREE product. Do not get water in the container. Since they are completely free from preservatives, it should be used within 6 months of opening. We recommend a patch test before use.
Juicy Chemistry products are hand crafted certified organic products. However, as you have switched to an all-natural/organic product to address your concern, upon usage your skin may go under a detox before you start observing results. This detox period is commonly referred to as Skin Purge that results in a temporary acne flare-up. The skin purge period varies from individual to individual and lasts up-to 4 to 6 weeks. Should you continue using the product if skin purges? Yes, you can continue to use the product if it's skin purge and not an allergic reaction. Eventually, you'll notice the skin starts clearing out between 4th to 6th week. We would recommend consulting a dermatologist to check if it's a skin purge or a reaction.
Juicy Chemistry Tamanu, Kakadu Plum & Frankincense Organic Face Wash comes in a dark brown glass bottle with a pump dispenser. The fragrance is very soothing and refreshing; smells like jasmine. The product is smooth and very light brown in colour. It is non sticky product for my oily skin. It calms and refreshes instantly. One pump of product is more than enough for my face, so I guess it might last for 6 months. Eventhough it is expensive but worth it. Since the product comes in glass bottle, we need to be careful; but it is travel friendly as it is not heavy. Also please read all information about the product. Though I didn't experience any skin purge like acne flare-up, there is possibility that you may experience it but its temporary. I will definitely repurchase the face wash for myself.
I highly recommend this face wash and let me know your experience...