Oil (Coconut) – 1 Tbsp
Mustard seeds – 1 Tsp
Chilly flakes – 1 Tsp ~ Optional
Curry leaves – 2 or 3 Leaves
Red Chilly – 1 (Finely chopped) ~ Optional
Onion – 1/2 (Chopped)
Potato – 1 (Chopped)
Carrot – 1/2 (Chopped)
Ginger and Garlic – 1 Tsp (Finely chopped)
Salt to taste
Cooked Barley – 1 Cup
Pepper powder – 1 Pinch
 Barley Stock – 1 Cup
 Green Capsicum/Bell Pepper – 1 Tbsp (Finely chopped)
Wash and soak barley in water overnight or at least 8 hours.
 Drain water.
 Cook soaked barley in 3 cups of water in saucepan or pot till barley turns soft. You can add extra water if required during cooking.
Strain barley and keep barley stock too.
Add oil in the saucepan over medium heat.
Add mustard seeds, chilly flakes (optional), curry leaves, red chilly and chopped onion one by one and cook, stirring occasionally, until soft and lightly golden brown.
Add vegetables – chopped you love to eat. Example : Potato, Carrot, Beans etc.
 Add chopped ginger and garlic.
Add salt to taste, pepper powder (optional) and cooked barley and stir it.
Add barley stock and bring to boil.
Reduce the heat to medium low and simmer for a couple of minutes.
Add Green Capsicum/Bell Pepper.
Continue to simmer until most of the liquid is absorbed.
Remove from heat and let sit, covered, for 10 minutes.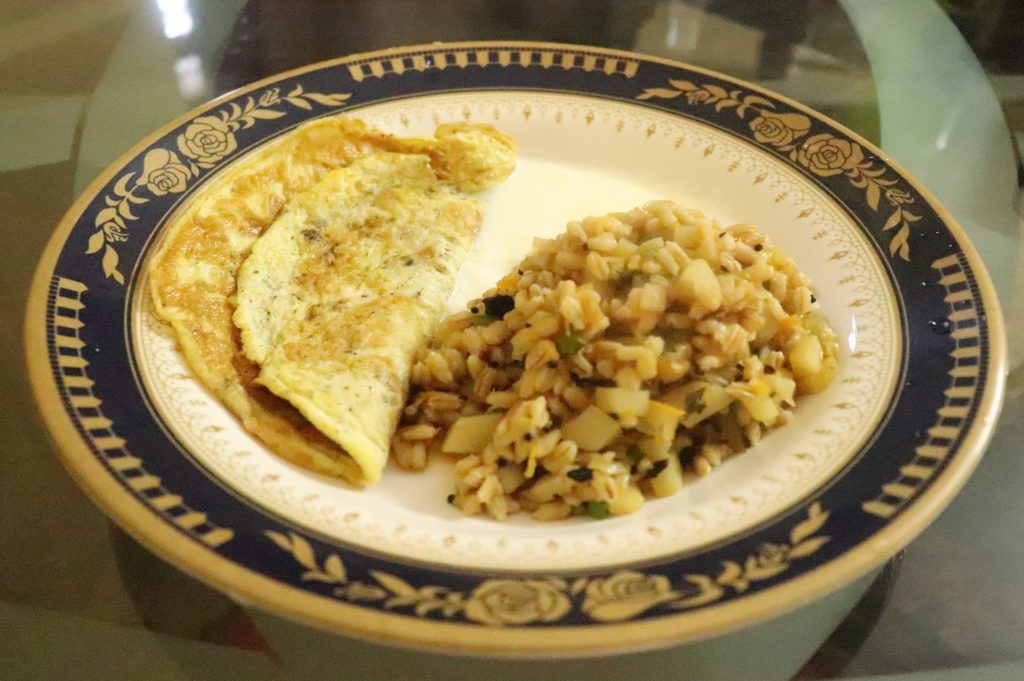 I ate barley pulav with an egg omelet and curd. You can have this recipe for breakfast, lunch, or dinner.